You can make your own Muppets and buy them straight from FAO Schwarz!  What you see above is what my Muppet would look like (I had to add in the goatee for effect).  The only drawback is that these things are $90 a pop.  I want a Muppet, but not that bad.  Still, maybe you do.  Link.
See More Posts About:
If this doesn't make you at least smile, you're dead to the world.  This just about personifies the sort of Internet Meme Culture Awesomeness.  Check out the whole set, especially this one.
See More Posts About:
Rosscott, Inc. is proud to announce that we are lending our world-famous comic, The System, to the Create a Comic Project:
The System by Rosscott has joined the comic project! Instead of using blanks, he sent me the Photoshop file with all the symbols he uses so I can craft my own. It'll be great when combined with In His Likeness to teach kids about the function of symbols and meaning.
The CCP uses comics as a teaching tool for kids.  Expect child-labor knock-offs of The System soon.
See More Posts About:
Just this morning, I thought to myself "does anyone actually read this blog?".  This is of course an extension of the question "does anyone actually read this website?".  My theory is that my mom somehow figured out how to make it seem like people are reading, except my mom is not that technologically advanced.
Back from my mom-related conspiracy, we have news that at least one person is reading these posts on things that interest me (generally design, coffee, nerdly stuff, and Mad Men).  Here's another post from my friends over at Fleen:
Speaking of design and redesign, I want to point you to some nifty Design Things. We at Fleen have been enjoying The System since it launched over the summer, and more recently, have been digging into the Rosscott, Inc blog. It's heavily focused on a) graphic design and b) Mad Men; I don't watch the latter, but the former has some really nifty stuff highlighted. Go check out fake movie posters, typeface porn, cool error pages, brilliant infographics, and more.
As a long-time reader of Fleen, it has meant a lot to me every time I get mentioned over there.  Not to mention finding my way into their "A GOOD START" list of webcomics on the right side.  Thank you.
See More Posts About:
I did a guest comic for my good friend Jamie over at Sudden Valley.  Go check it out!
See More Posts About:
Apparent Systemic Kleefeld of Kleefeld on Comics has put together a mashup of one of my comics with one of The Devil's Panties.  I wholeheartedly approve.
See More Posts About:
Here's a ticket I can believe in.  Systemic and fellow web comicker Dern is making these cool shirts.  If you think it is cool and need yet another t-shirt and/or have money lying around, help him out.  Consider it stimulating the economy.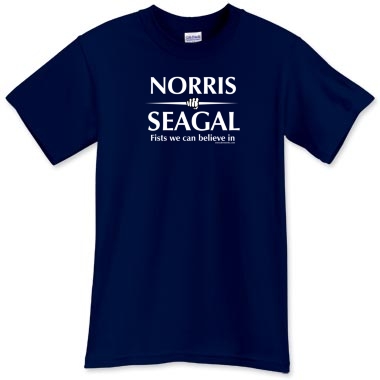 See More Posts About:
I'm up for "Weekly Webcomic Wrapup" on Joystiq for Friday's comic (
#62
).  Go vote for me, since this is just about the closest to "video game humor" as I plan on getting.    
Thanks!
See More Posts About:
A while back, Fleen wrote about The System.  They wrote some pretty interesting things.
I wrote to let them know we hit comic #50, and they were nice enough to write something.  Go check it out.
If you saw it and are stopping by, well, that's interesting.
See More Posts About: