Spoilers ahoy. But also, "Giving a brick when it's not your turn to give a brick." is amazing.
I don't know why, but I was mesmorized by this video. Maybe because I'm so tired and easily distra
First of all, while it may go without saying, the following is NSFW. But it's also awesome, so take that as you will.
The site Good F%*king Design Advice has collected a huge series of great design advice for you to keep in mind. If your college experience was anything like mine, they probably all sound like a teacher or two from college. Some highlights:
Hang your fucking quotation marks.
Have a fucking reason.
Drink more fucking coffee.
Don't fucking work on spec.
A computer is just a fucking tool.
Believe in your fucking self.
I couldn't agree more with all of these. If it weren't for all the cursing, I would make my students memorize every single one. Check it out, and post your favs in the comments! LINK »
See More Posts About:
Okay so you're stranded in the middle of nowhere. You need to stay alive through the night and there's no shelter in sight. Clearly the best thing to do is cut open an animal and crawl into it, right? But what if there are no TaunTauns around?
Systemic Manderson sends word of the hilarious and amazing blog http://crawlinginsideanimalstosurvive.blogspot.com/ tells you just what animals are best suited for this and why. Even tackling the question of whether they smell better on the outside or inside.
Check it out. It's funny. LINK »
See More Posts About:
It's an 8-bit game based on the cult midnight movie so-bad-its-good The Room. It's a great movie in itself (well, in the same way Birdemic is a great movie) but the game is what gets me. It's thorough. They have all the scenes broken down into a really fun little game, with Final Fantasy style dialogue and fighting, and even an 8-bit chiptune-style soundtrack. The real joy of it is the places the writers got snazzy with the things that were off screen. Be sure to explore what's on the next block, what's inside Denny's room, and talk to all the people on the street. I got pretty far into it but had to give up. As my friend Cledwyn had to say, I got fed up with this wurld.
You can play the game here »
Here's a Wired article on it where it Systemic Cledwyn found it »
If you're looking for the comic, it'll be up around 1pm EST-ish.
See More Posts About:
Inside 'Mad Men': On Set and Behind the Scenes of the Emmy- Winning Show | Rolling Stone Music | Photos
See More Posts About: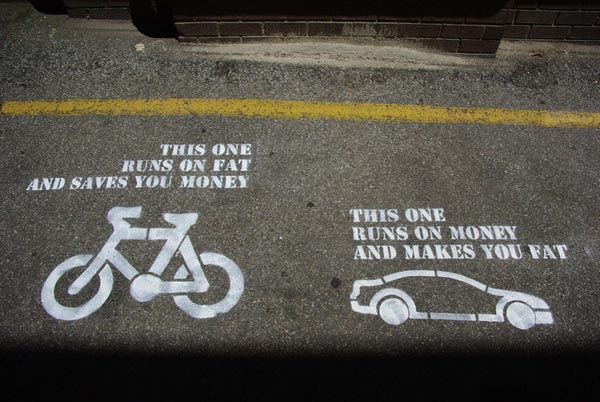 Snapshot: bike lane indicators get straight to the point – Boing Boing
See More Posts About:
It's funny. Keep refreshing it, it gets funnier. LINK »
UPDATE: It gets even funnier! Check out the source code. (Thanks, Systemic Tate!)
See More Posts About:
This was sent in by one of your fellow Systemics, but I didn't write down who Systemic Lionthetiger. Whomever it was, thanks muchly!
Seemingly by the same people that brought us Lost Cat / Problems with Designers comes this gem about a graphic designer, doing work for a client, and not getting paid. Again, told in emails:
From: David Thorne
Date: Monday 16 November 2009 3.52pm
To: Simon Edhouse
Subject: Re: Logo Design

Dear Simon,

Disregarding the fact that you have still not paid me for work I completed earlier this year despite several assertions that you would do so, I would be delighted to spend my free time creating logos and pie charts for you based on further vague promises of future possible payment. Please find attached pie chart as requested and let me know of any changes required.

Regards, David.
Don't you want to go read it now? I'm sure you do. LINK »
See More Posts About: